Virtual Reading of "Flowers Behind the Mountain"
in Recognition of Hispanic Heritage Month
Donations from the event will benefit non-profit Arts for a Better Tomorrow, which provides resilience-building acting programs for underserved children in the Hispanic community.
WHEN: Friday, October 9, 2020, at 6 pm pacific/9 pm eastern
On Friday, October 9, an ensemble of Hispanic Hollywood actors are joining forces for a virtual reading of award-winning play Flowers Behind the Mountain. Written by Playwright Barbara Bennion, the story shares the real-life, harrowing experiences of five Latino migrants crossing the border from Mexico, Central America, and South America. The play is being presented in an abbreviated version by Hollywood & New York City actors Teresa Yenque, Jose Yenque, Barbara Bonilla, Francis Mateo, and Patrick Michael Valley.
Proceeds from the virtual reading of Flowers Behind the Mountain will benefit Arts for a Better Tomorrow (ABT). The non-profit, founded by Jose Yenque, provides educational, therapeutic, and social integration programs for underserved children who have faced traumatic experiences.
"In the midst of a pandemic, ABT continues to help youth with social-emotional arts education to equip them with coping tools and strength to impulse transformation within them and their community," said Yenque. "We chose Ms. Bennion's play because of its powerful message of resilience, hope, and determination to inspire solutions. This is precisely what ABT instills in our youth through the arts on both sides of the US/MX border."
Flowers Behind the Mountain won the Mario Fratti/Fred Newman Political Play Contest and was presented at Castillo Theatre in Manhattan. Other readings have been at City College of New York's Conference on Immigration and Education, Penguin Repertory Theatre, Christ Church and San Marcos Mission, and Temple Beth Abraham, in Tarrytown, NY.
An emigrant from Perú, Teresa made her Broadway debut in A Streetcar Named Desired with the late Natasha Richardson. Ms. Yenque completed successful run of Como Agua Para Chocolate at the Gala Theater in Washington DC and Zoe Kazan's After the Blast at the Lincoln Center in New York City. Currently, she can be seen at Repertorio Español in The House of Bernarda Alba, and in many tv shows and films. She is the mother of two successful sons, Cesar and Jose Yenque, how have appeared together in the police drama The Division and the film, The Blue Diner. Among her prestigious awards are the ACE and HOLA.
Born in Brooklyn, NY, Jose has over a decade of experience as a professional actor and devoted humanitarian, which earned him an Honorary Doctorate of Fine Arts from California State University San Marcos. He is the founder of Arts for a Better Tomorrow (ABT), a trans-border non-profit organization that uses the transformational power of the arts to positively impact the lives of underprivileged youth on both sides of the U.S. Mexico border. Yenque's film credits include Steven Soderberg's Academy Award-winning Traffic opposite Benicio Del Toro, and Beginners opposite Christopher Plummer. He has been recognized by organizations in and outside of the entertainment industry.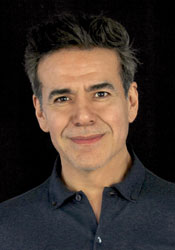 A proud Cuban American, Barbara is thrilled to be back working with her other favorite, Barbara, this amazing cast and most powerful piece of theater in this new medium. As a Sag/Aftra member, Barbara has been a working actor for over four decades on stage, film, and television in NYC, L.A., and Miami. She is a voiceover actor in both English and Spanish. In 2021, Barbara co-stars in two films, iMordecai with Judd Hirsch, Carol Kane, and Sean Austin and Reminiscence with Hugh Jackman and Rebecca Ferguson. A special thanks to Barbara, Howard, and Julia. Te amo, Papi.
Francis has a bachelor's degree in English Literature from Hunter College (CUNY) and an MFA in acting from Brooklyn College. His poetry and short stories have been published in different magazines in Argentina, Germany, and the Dominican Republic. Francis performed with the band La Sovietika, poems from his first book of poetry, "Ubre Urbe" Francis' second book is out now, El Alto, published by Ediciones Cielonaranja. Francis has acted in off-Broadway and off-off-Broadway productions with the Public Theater (Shakespeare in the Park's Mother Courage starring Meryl Streep), Classical Theater of Harlem (Starring Andre DeShields, Shakespeare Forum, Mabou Mines, APAC, Otro Teatro NY, Repertorio Español. Film works with directors such as Melvin Van Peebles and Spike Lee. T.V. commercials and voiceovers from Verizon, Optimum, Anna's Linen, Burlington Coat Factory, Oscar Health Insurance, etc.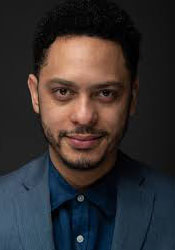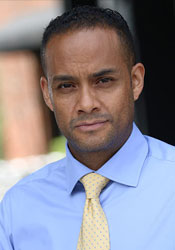 Patrick Michael Valley (Carlos)
A native of Mexico City, Patrick is a New York-based actor who has been in productions of The Man of La Mancha (Sancho), Temple of Souls, Kiss Me Kate, Cabaret (N.C.), Oklahoma, and the Public Theater's Public Works production of The Odyssey. Film Project includes the short films Famous Land and Sasha, NYS sponsored educational film projects such as 480 Seconds and We Speak NYC, as well as the bilingual film. It's a Match. Patrick holds a B.S. in Chemical Engineering from Stanford University.